VEGA POWERLIFTING SHIRTS HS Powerlifting shirts are available in the online store. Orders close Tuesday, December 13 at 11:59pm. Shirts will not be shipped until after Christmas break. Order here --->
https://gogearup.io/vega-pwr22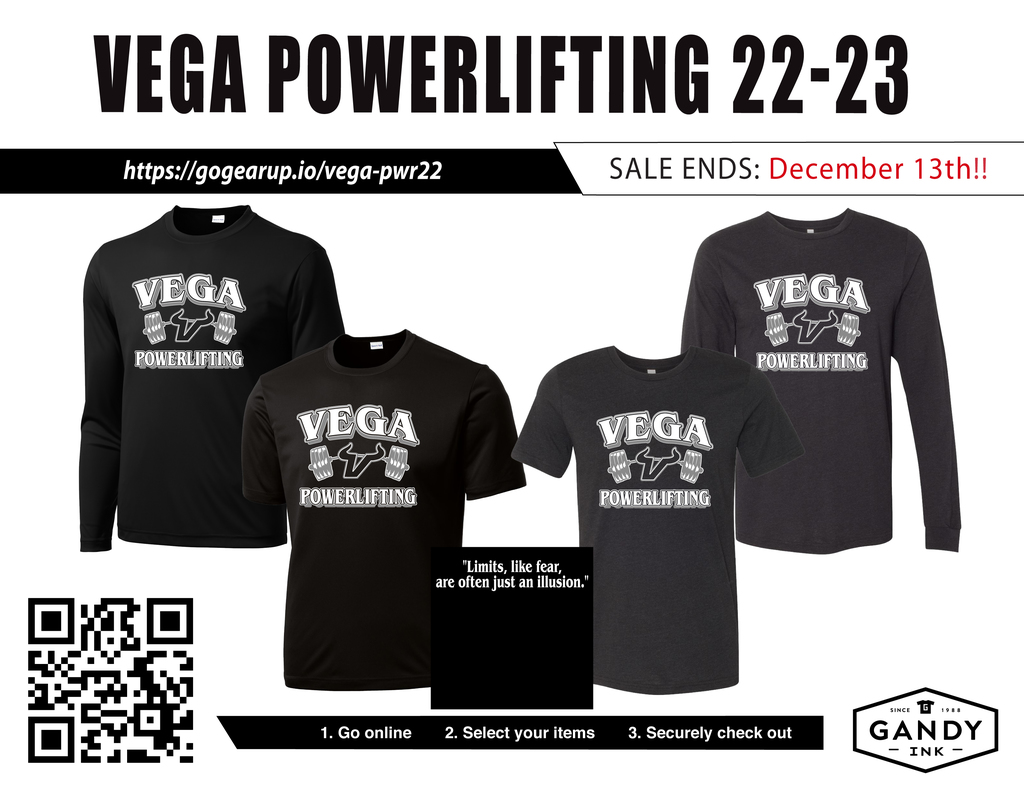 The ticket link for tomorrow's games at Clarendon is below. All tickets must be purchased online. No cash will be accepted at the gate. Attendees will be checked in by having their ticket scanned from their phone or they can be checked in by giving their name to the person working the gate. If they choose, they can also print out their ticket and present it to be scanned. District and Senior citizen passes will be accepted and just have to be presented at the gate for admission. Please let me know if you have any questions or if there is anything I can do. Admission prices are: Adults- $5 and Students- $3
https://clarendon-cisd.ticketleap.com/broncos-and-lady-broncos-vs-vega--dec-6th/

HS Basketball Schedule Update‼️ High School basketball games in Clarendon on Tuesday (12/6) will start with JVG at 4:00 followed by JVB, varsity girls and varsity boys all in one gym.

Join us for the Fine Arts Christmas Bash in the auditorium Thursday, December 15th. Doors open at 6:00PM. Band performance begins at 6:30PM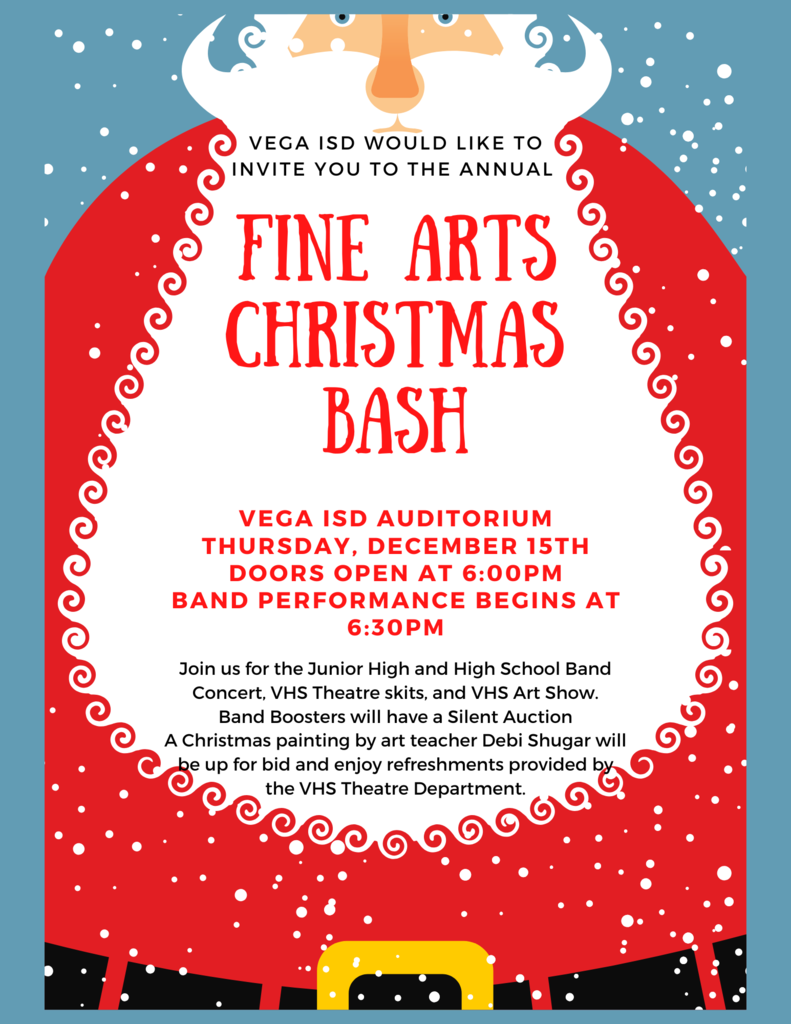 One last order for HS basketball shirts. Please email
akirkland@vegalonghorn.net
with sizes to order your shirts before Monday at MIDNIGHT!!! **must meet minimum to order**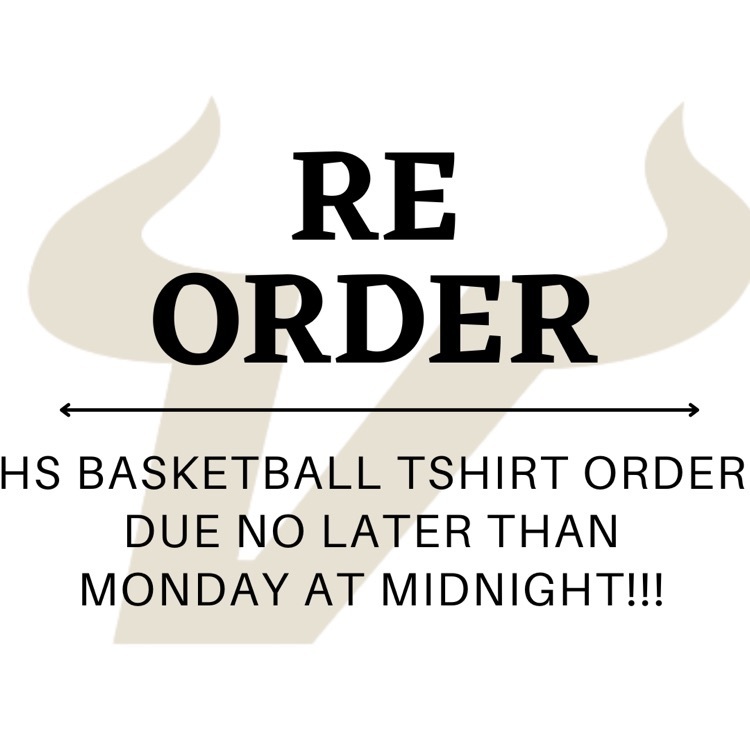 Can't make it to the games but want to stay up with all the 🏀 action during the tournament? With a subscription, you can watch all the varsity games, right here!!
https://www.nfhsnetwork.com/schools/vega-high-school-vega-tx
**All Vega High School & Junior High games will be broadcast here throughout the season.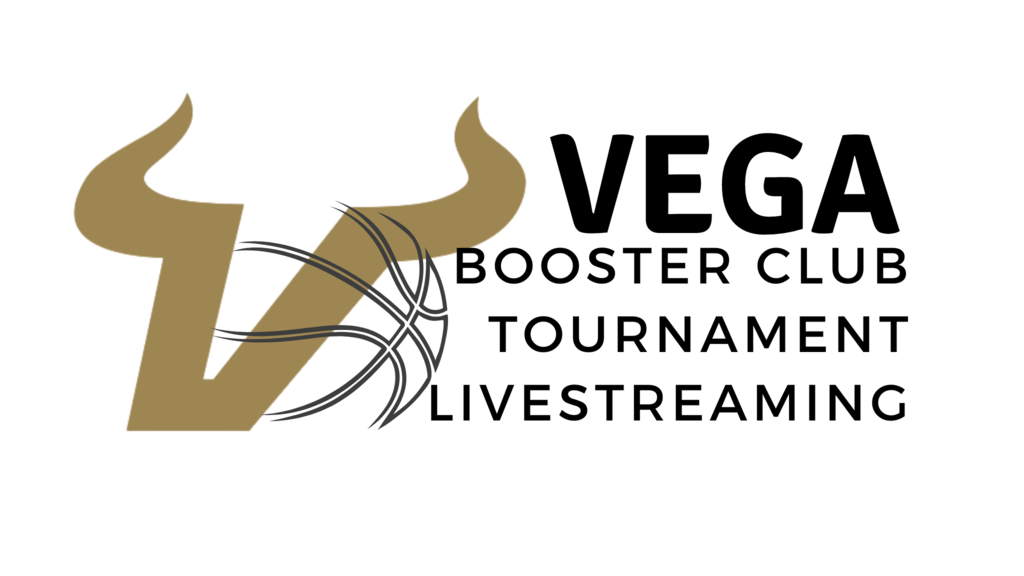 HS BASKETBALL SHIRTS The online store for high school basketball shirts is open. The store will close TOMORROW @ NOON!!! . This is a very tight turn around in order to get the shirts here before the new year. ORDER SHIRTS HERE --->>
https://gogearup.io/vega-boosters-bb22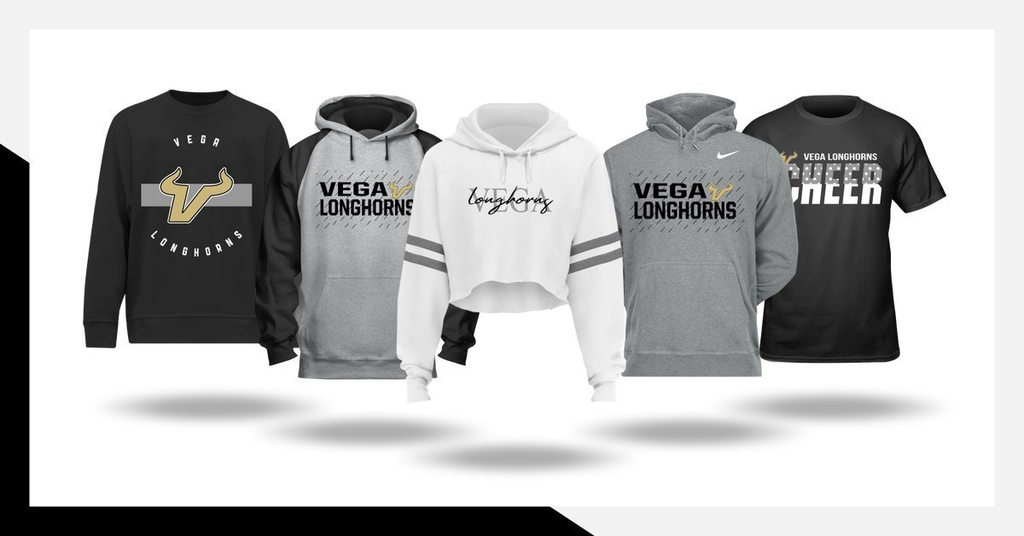 The freshman boys will play in the Adrian Tournament on December 2-3.

Vega Booster Club Tournament Brackets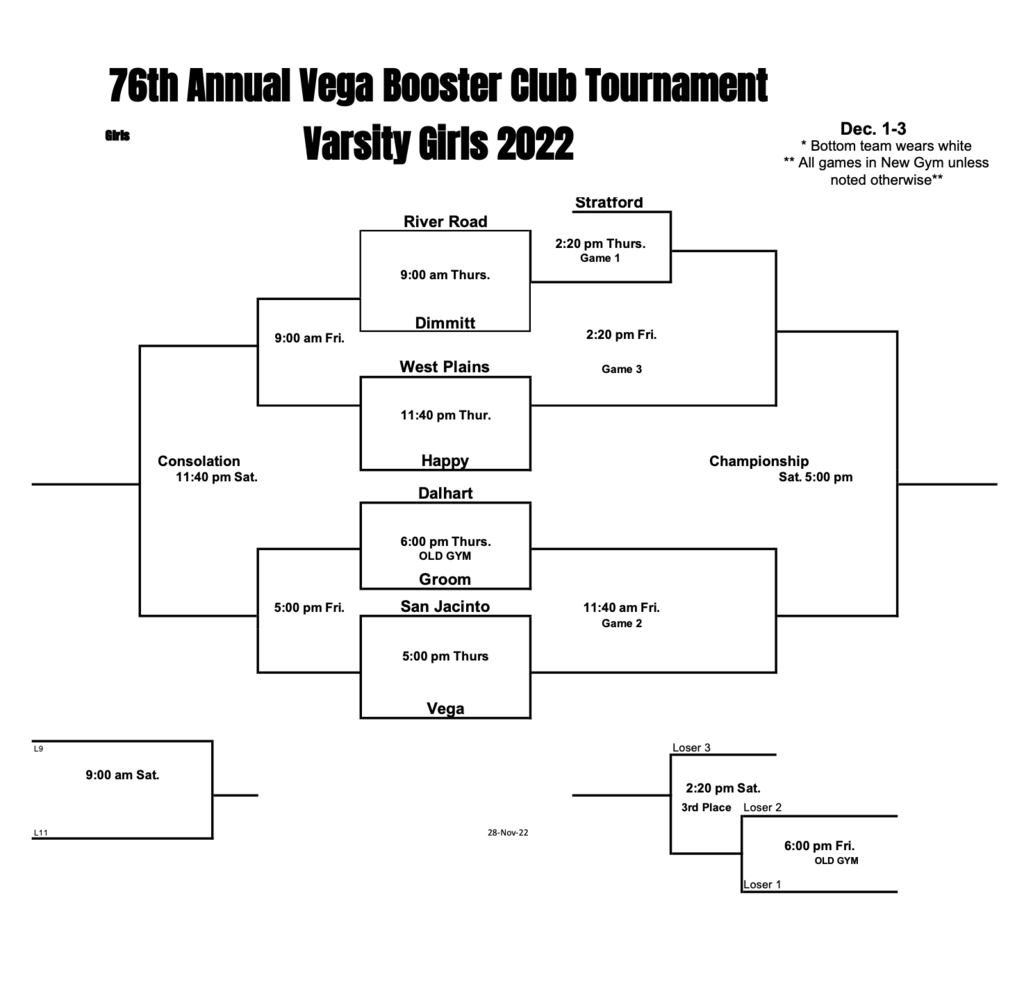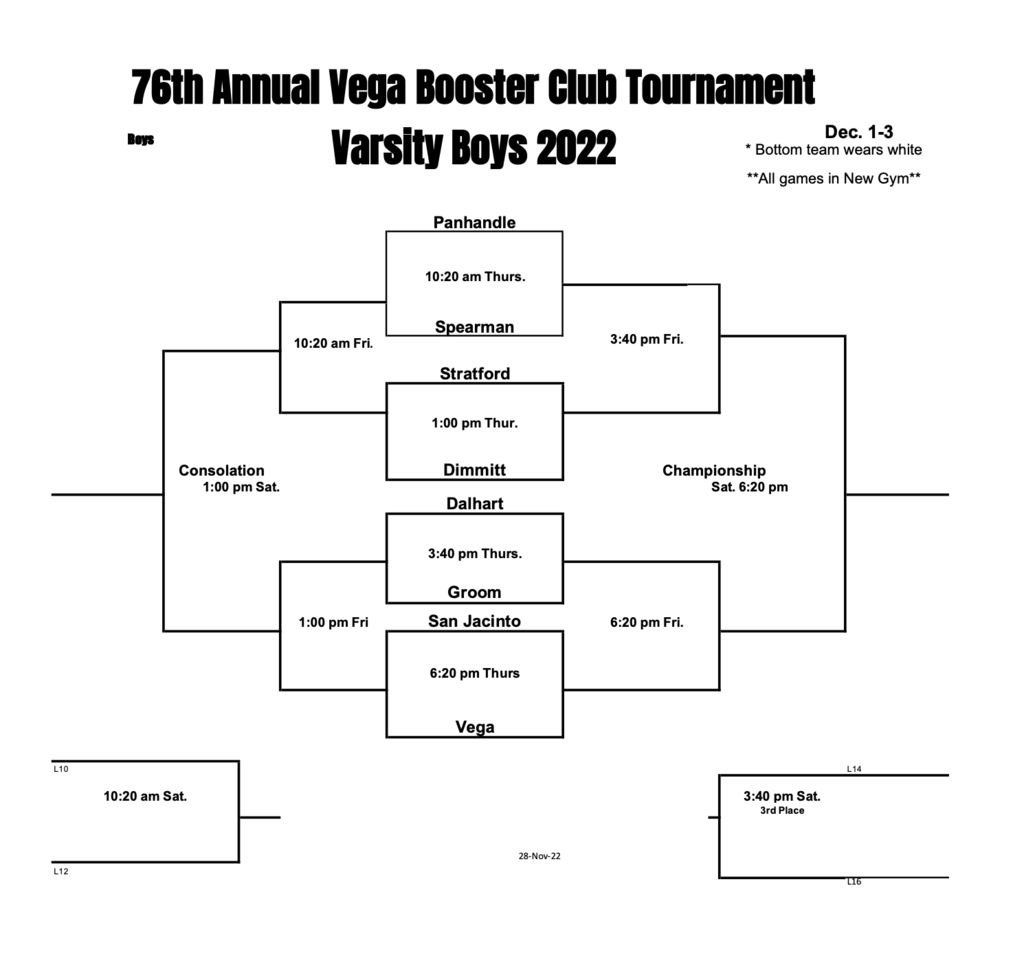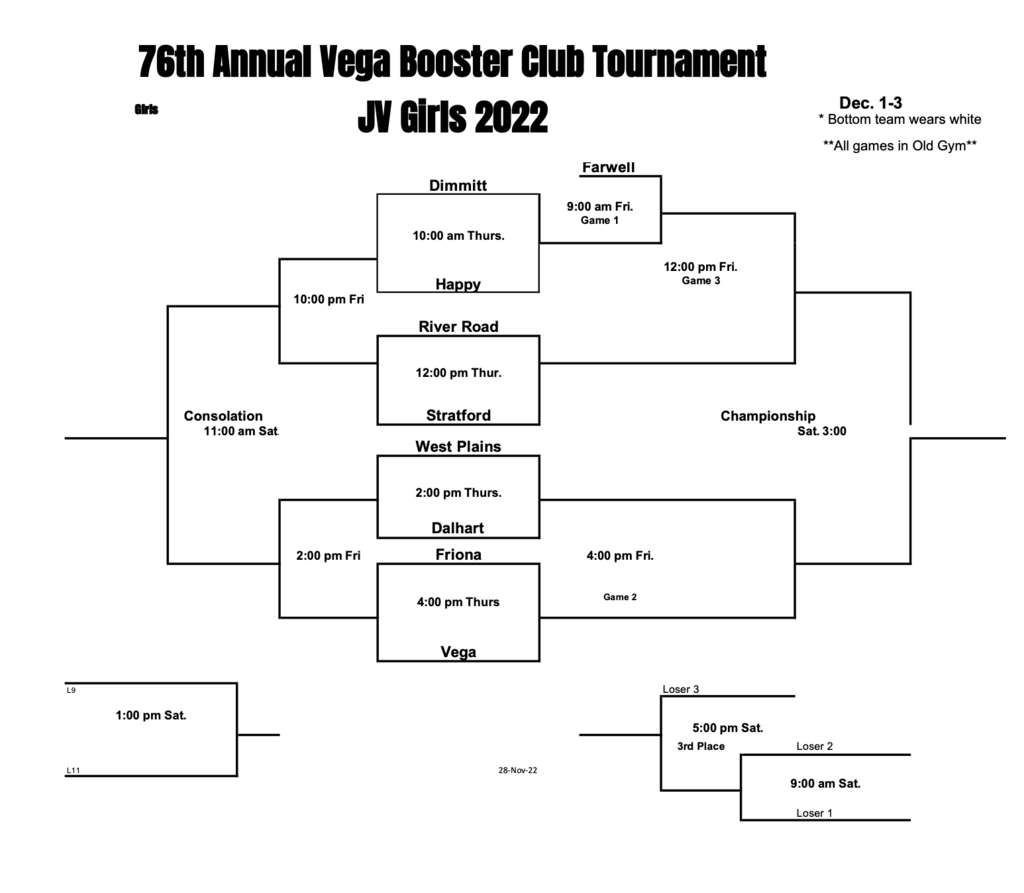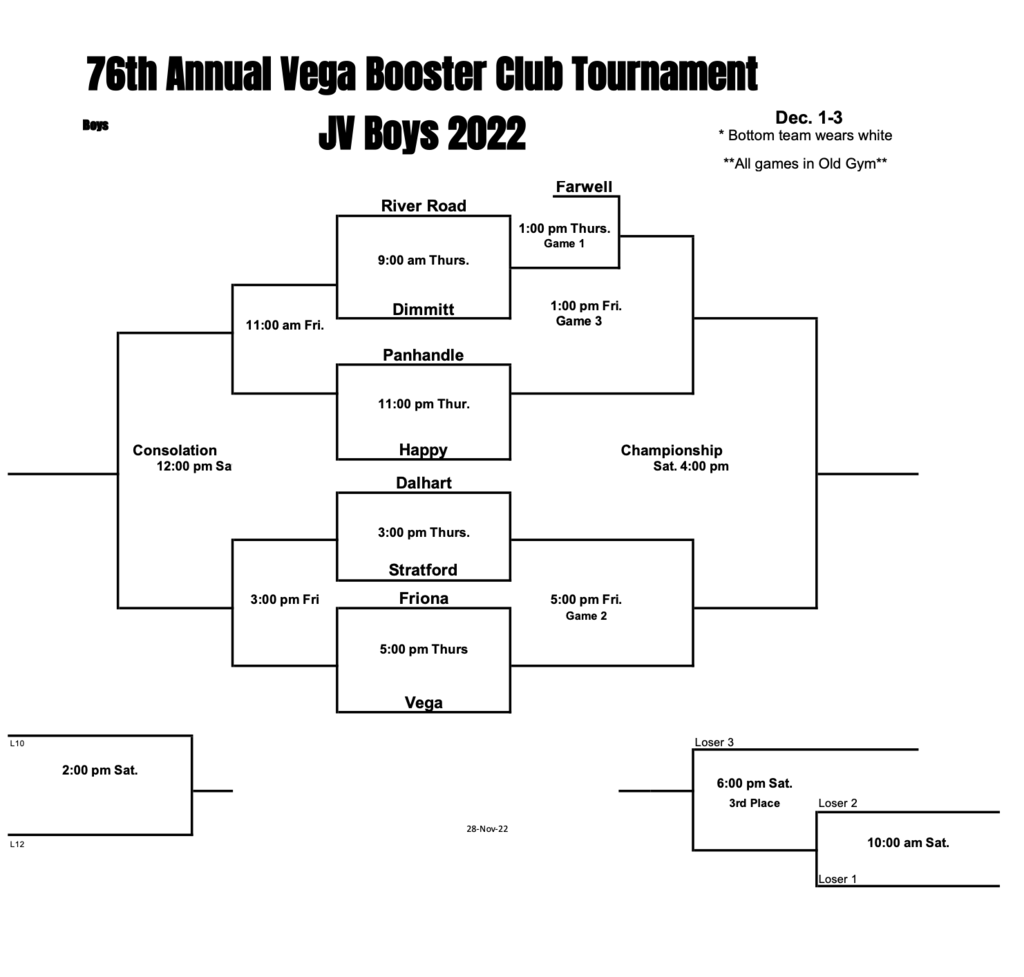 JH & HS PARENTS OF ATHLETES & CHEER ... this is your reminder to bring your homemade dessert 🧁 to the Booster Club tournament concession stand no later than 3pm on Friday. This tradition is definitely a fan favorite!!!

TODAY is Game Day!!!!! Come out and support the Longhorns in the Regional Playoff game in Canyon. Longhorn Fans .... be loud and be proud!!! Emergency Escort at the Courthouse at 11:50am Tickets here ....
https://bit.ly/VegaGameTickets11-25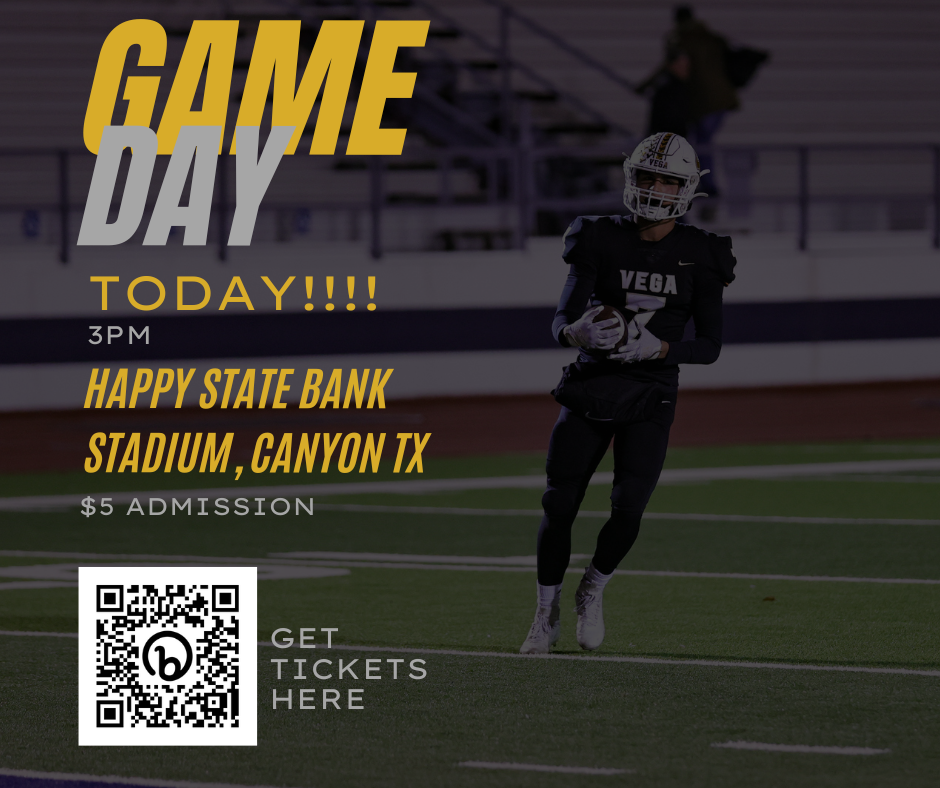 Happy Thanksgiving to you and your family from Vega ISD.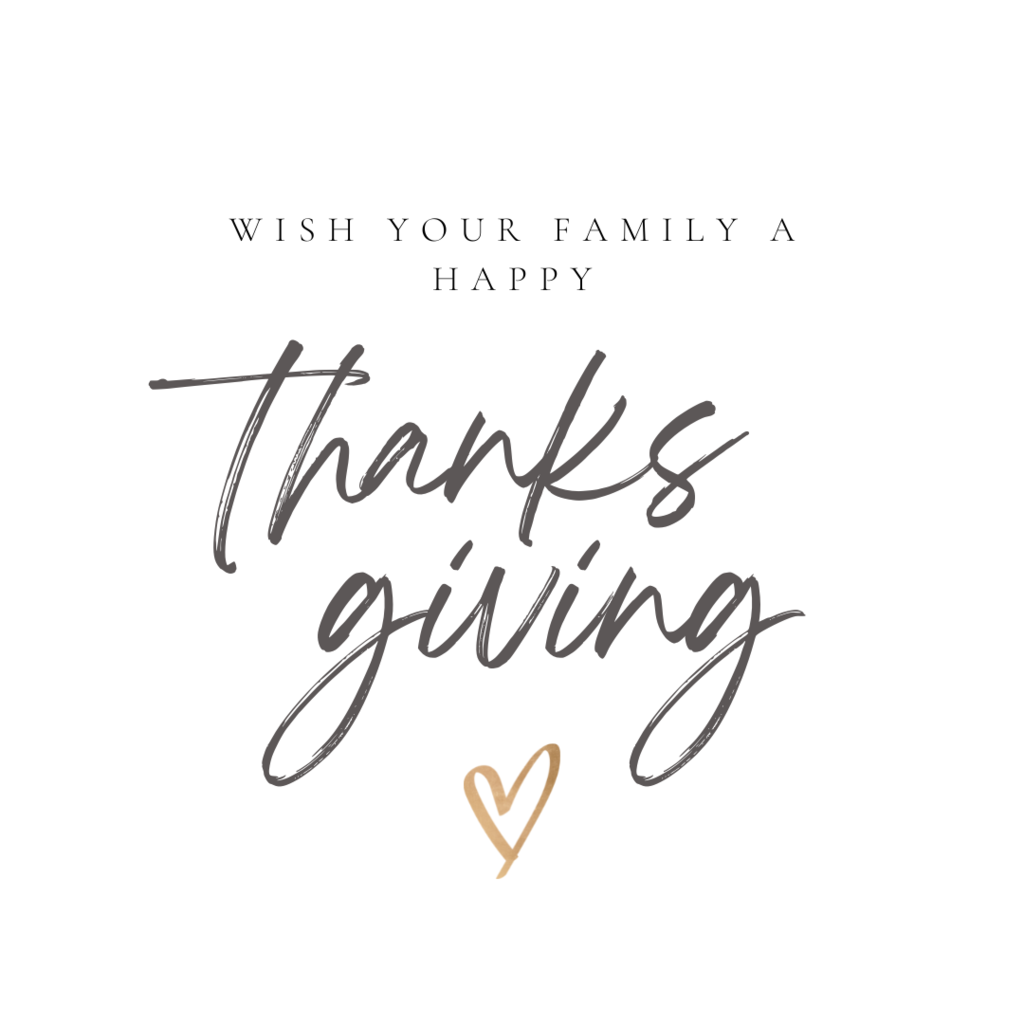 VEGA VS WELLINGTON TICKET LINK Tickets for the Regional 🏆 Playoff game are digital / mobile only. Please purchase your tickets here prior to the game. Friday, November 25 at 3pm Happy State Bank Stadium, Canyon TX Tickets $5 each Get tickets 🎟️ here ➡️➡️
https://bit.ly/VegaGameTickets11-25
or scan the QR code on the image.


GOING, GOING, ALMOST GONE!! Today is the last day for JH & HS basketball buttons. Be sure to select the link below for the buttons you would like to order. There will be no more orders taken after today. JH Buttons --->
https://bit.ly/JHBBButtons
HS Buttons --->
https://bit.ly/HSBBbuttons

FOOTBALL REGIONAL PLAYOFF GAME Friday, November 25 at 3pm Kimbrough Stadium, Canyon, TX Emergency Escort at 11:50am Tickets for sale online. We will send the link when it becomes available this week.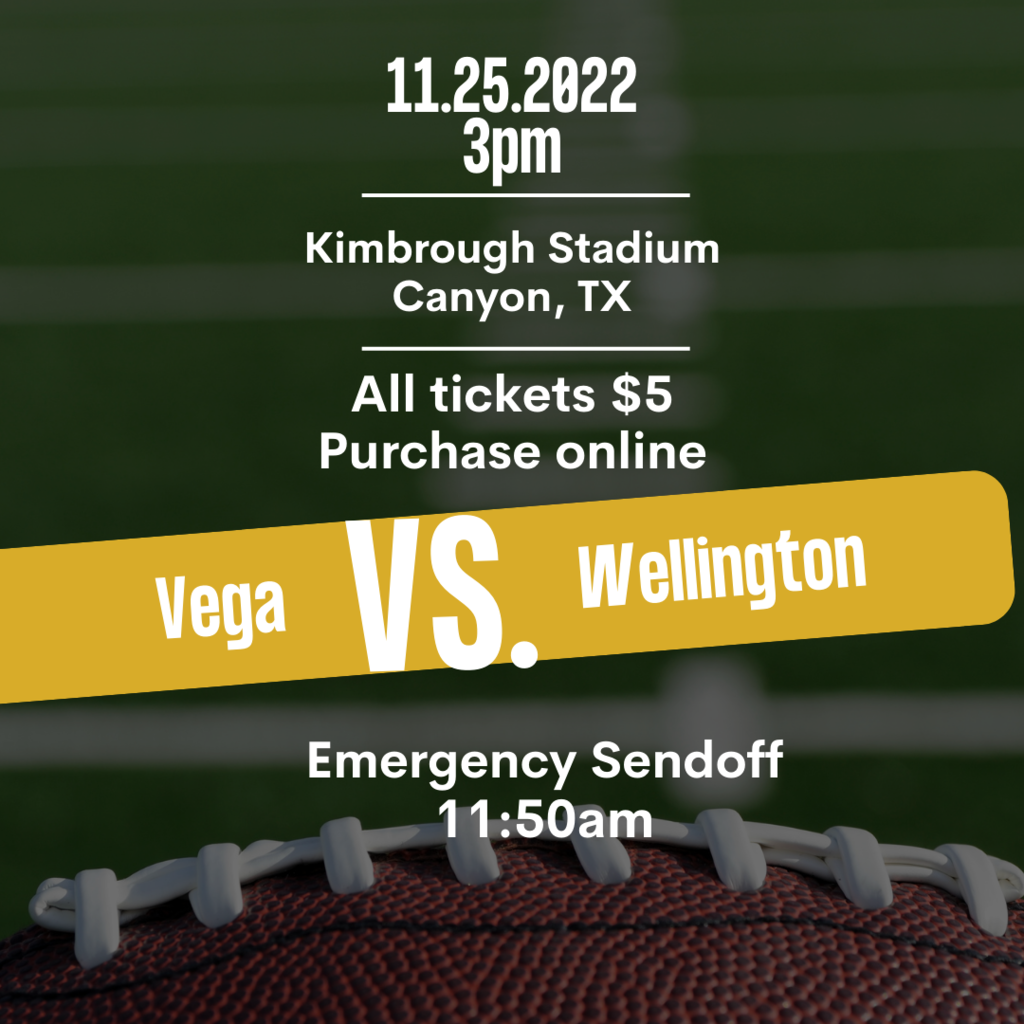 Vega ISD: GIRLS BASKETBALL SCHEDULE UPDATE - Tuesday, November 22nd … JV girls game will start at 4:00 followed by the Varsity girls at 5:15 at White Deer.

AREA CHAMPIONS!! 🤘🏈 Awesome game Longhorns!!

2022 Volleyball District Honors have been named. Congratulations to these Lady Longhorns on a great season. Addison Bidegain, Kashli Gilter & Jaz Martinez: All District Kami Drinnon: Co-Defensive MVP